Refer A Friend
Get Paid for Referring Friends to Southeastern Door & Window
3 Easy Steps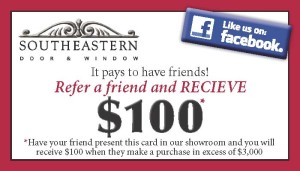 Click Here to: Send us an email requesting a Referral Card.
This card must be physically presented in our Showroom to earn your reward.
2) Give Referral Card to a Friend, Family Member, Neighbor …
(you get the idea)
The intention of this promotion is to gain new referrals for new customers in an effort to earn incremental business.
If an individual has already requested or received a quote from Southeastern Door & Window, they do not qualify as a New Referral.
If someone you know is considering making a purchase of products that we carry and you refer them to Southeastern Door & Window, then they are a Qualified New Referral.
3) Get Paid
Have the person you refer to Southeastern Door & Window present the Referral Card in our Showroom when they request a quote.If they make a purchase in excess of $3,000, you will receive $100 !